What You Can Do With a Handheld Mobile Computer
The functions of handheld mobile computers are not limited just to reading barcodes and collecting data. Their compact bodies contain various functions that are useful in making work more efficient and in preventing user-caused errors. This section explains the main functions to show what you can do with a handheld mobile computer.
Function (1) Collecting and Recording Data
Barcode reading
Barcodes and 2D codes can be read and converted into data instantaneously.
With some models, text such as expiration dates can be read with an OCR function.
Input with key operations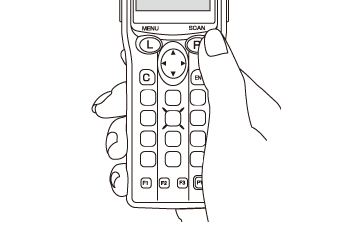 Information that has not been converted into barcodes can be entered with numeric keypad operations.
These operations are the same as those on a mobile phone, which makes it possible for anyone to perform them easily. This is useful when entering quantities during the inspection of receiving goods.
Adding the time when reading was performed to the data

For various codes, the date and time that the codes were read can be recorded automatically in the data.
This can save the operator the trouble of recording this data and can eliminate mistakes in the entering of such data. This also makes it easy to determine the causes of problems when they occur.
Function (2) Automatically Transmitting and Saving Results
Saving the work results in the specified format

To make it easier to collect results, the saving format can be determined in advance, which reduces the amount of work-hours spent on data management.
Automatically transmitting and saving results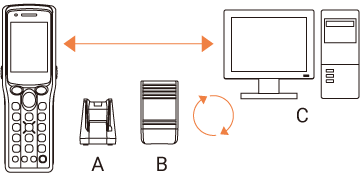 Collected data can be automatically transmitted to a PC or server.
This prevents mistakes such as forgetting to transmit the data and makes work more efficient.
Reducing the transmission time and making transmissions more efficient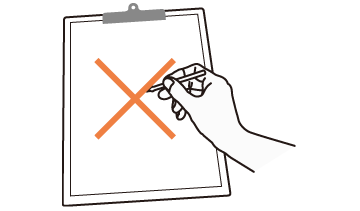 The automatic transmission function can be used to omit the aggregation work, which not only eliminates mistakes due to the transcribing of data but also makes it possible to check the aggregation data on a PC or similar device at the headquarters in real time.
Function (3) Management With No Time Lag (Wireless Type)
The wireless type enables real-time management
With paper aggregation, the overall results can only be checked after operations such as inventory and warehousing are complete and the data is entered into a PC. On the other hand, with a wireless type handheld mobile computer, the results can be transmitted at the same time that the work is being performed, so the work status can be checked in real time. This enables management with no time lag, which is difficult to be accomplished when performing paper aggregation.
Conventional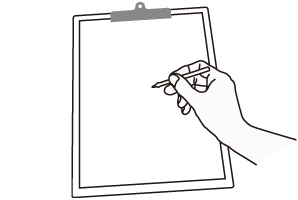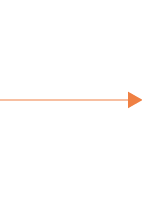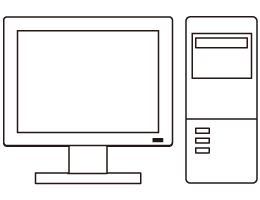 Automation using a wireless system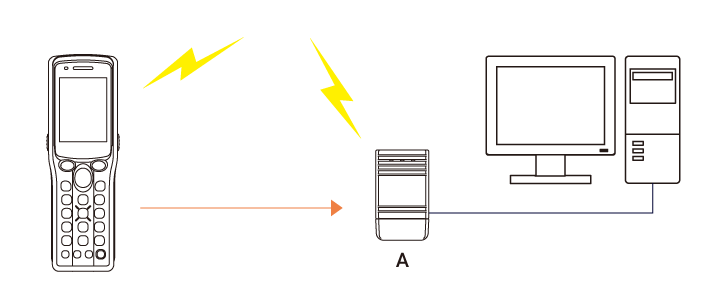 Inventory management

Inventory counts can be determined in real time. With paper aggregation, the data cannot be checked until it is all entered into a PC.

Progress management

With paper aggregation, it was not possible to check the progress until the work was completed or until a problem occurred. However, with a handheld mobile computer, the progress of the work can be checked in real time whenever data is read and automatically transmitted. The progress can be checked in detail, which makes it easy to adjust and optimise the placement of personnel.
Function (4) Sending Instructions in Real Time (Wireless Type)
Smoothly sending instructions to change work to match the situation
With the wireless type, not only can results be sent from the handheld mobile computer, but data can also be sent from a PC to the handheld mobile computer. When it comes to work such as picking and order placement, the situation changes constantly, so giving instructions to make changes by paper takes a large amount of work-hours. Furthermore, management was very difficult due to the work proceeding while changes were occurring.
If handheld mobile computers are used and instructions are sent in real time, it is possible to reduce mistakes by changing the work instructions to match the work progress and the order situation. Furthermore, processes can be made more efficient by recombining them after judging the progress situation.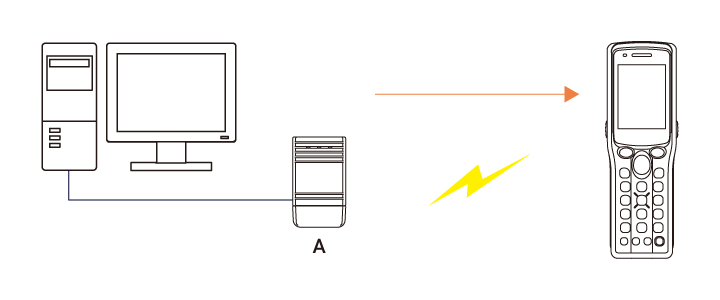 Picking and process management

Wireless type handheld mobile computers can be used to easily change the process according to the progress of the work and the order situation. For example, it is possible to quickly send instructions so that processes that are not in trouble in terms of time or workload are stopped and the personnel from these processes are focused on work that has fallen behind.
Function (5) Improving the Accuracy and Reliability of Data (Wireless Type)
Preventing mistakes with real-time data verification and confirmation
With the wireless type, the latest data on a PC or server can be checked from a handheld mobile computer. Not only does this eliminate the need to physically move to where the data to be checked is stored, the data can be queried by reading codes, which enables mistake-free confirmation work.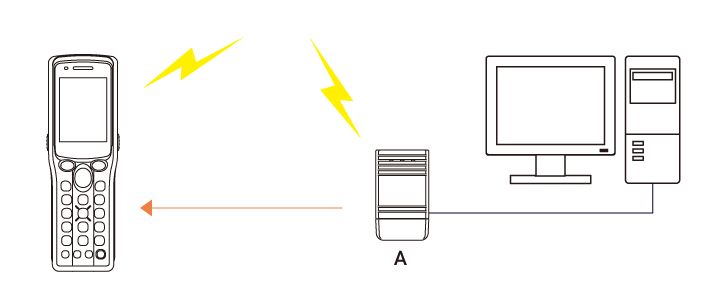 Inventory inquiries

When checking the inventory situation at a retail shop or a similar store, the PC or server can be queried just by scanning the barcode of a product. There is no need to move between the store and the warehouse, so customer inquiries can be answered immediately. This leads directly to improved customer service.