[Retail Industry] Specialised Stores
This section introduces handheld mobile computer application examples in the retail industry. Here we explain handheld mobile computer application examples at specialised stores such as clothing stores within the retail industry.
Work at Clothing Stores
At clothing stores, it is necessary to carry out a wide variety of work such as looking after customers, handling customer orders, and cleaning/organising the interior of the store with a small amount of staff. In addition to this work that people can see, the staff also has to take care of a large number of other tasks including managing the day's sales, notifying headquarters of the sales, inspecting products, and receiving products. Installing handheld mobile computers makes it possible to handle the majority of the routine work listed above with the simple operation of just scanning barcodes. This makes it possible to greatly simplify costs related to personnel and time.
Problems and How to Solve Them by Installing Handheld Mobile Computers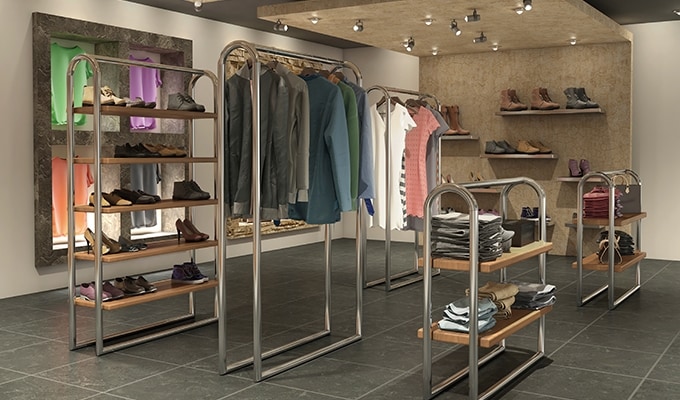 Conventionally, it was necessary to rely on staff to carry out the majority of the work at clothing stores. However, relying too much on people can lead to frequent occurrences of human error such as mistakes in entering data and staff bringing customers the wrong item or size because it is similar to the intended one. With a handheld mobile computer, just scanning the barcode marked on an item's tag reads and records the product name, retail price, size, colour, and product code instantaneously and accurately, which dramatically improves the efficiency of the majority of tasks related to store administration such as sales management and inventory management.
One handheld mobile computer is enough for a whole store
The advantage of KEYENCE handheld mobile computers is that they do not require a large-scale system and can therefore reduce installation costs. The ability to reduce installation costs is an extremely large advantage for clothing shops, the majority of which are comparatively small in scale. There is no need to place a PC and peripheral equipment in the store, so handheld mobile computers can even be installed in small shops that have a limited store area.
Also, everything from scanning barcodes to sending data to headquarters can be done with a single handheld mobile computer, which greatly reduces the hassle and cost associated with work. Furthermore, by integrating the data received from handheld mobile computers into the system at headquarters, it is possible to collect this data into daily and monthly reports without any additional work, thereby making it easy to create the result data and perform sales analysis.

Advantages Provided by Installing Handheld Mobile Computers in Various Operations and Work Activities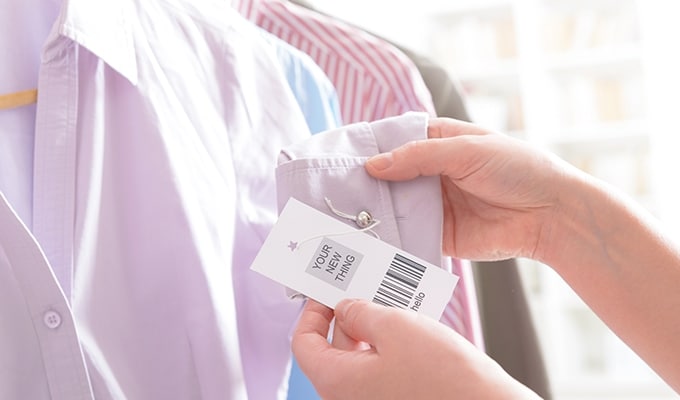 This section explains detailed handheld mobile computer installation examples grouped by operation/work at clothing shops. It introduces in an easy-to-understand manner items such as the advantages provided by and the effects of making work more efficient through installing handheld mobile computers.
Handling customer orders (checking inventory between headquarters and the store)
When the item, size, or colour that a customer is looking for is not available at the store, it is necessary to check the inventory at headquarters and at other stores. However, important data from headquarters and other stores can be called up instantaneously with a handheld mobile computer, which makes it possible to quickly handle customer orders. Inventory information can be shared between stores, which prevents lost sales opportunities.
Handling customer orders (preventing staff from bringing customers the wrong product)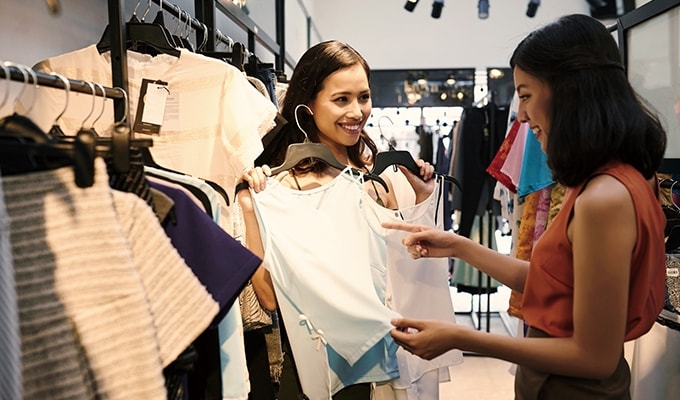 Staff must never bring a customer a product that is different from the customer's intended product. However, it is easy to mistake similar pieces of clothing because they have minor differences in design, size, colour, and other such characteristics. By reading barcodes, accurate information can be checked without having to rely on visual inspections.
Outputting movement slips
Movement slips must be created when it is necessary to move products between stores or to return products to headquarters. However, if a handheld mobile computer and printer are available, movement slips can be output instantaneously just by scanning barcodes. This eliminates the hassle of creating slips with handwritten information and provides peace of mind by eliminating mistakes in the recording of data and instances of staff taking the wrong product.
Checking popular products
A handheld mobile computer can be used to check the sales ranking of items at the store instantaneously in order to determine which ones are popular. Using POP displays and other such advertising methods to introduce the month's popular products enables even more efficient sales.
Aggregating/reporting sales
Handheld mobile computers enable easy sales aggregation just by scanning barcodes at the point where payment is finalised. This is efficient because it eliminates the need to perform aggregation work again in order to report the sales to headquarters.
Taking inventory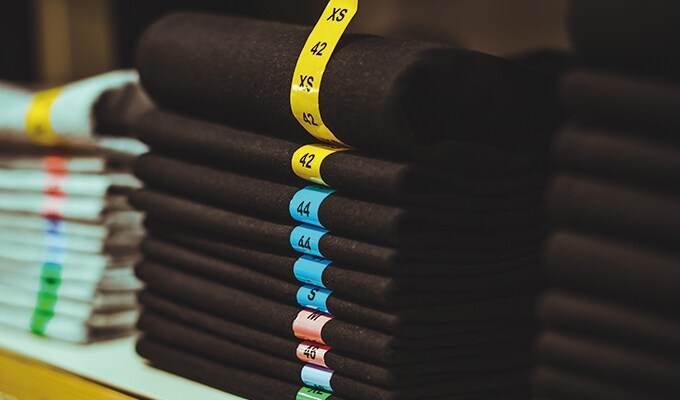 The common operation that is a hassle at all retail stores is the taking of inventory. In the case of clothing stores, there is the problem of data entry mistakes being easy to occur due to a large number of items and each item having multiple variations with different colours, sizes, and other such characteristics. Normally, inventory is taken all at once after the store is closed or on days when the store is scheduled to be closed, but handheld mobile computers can be used to just scan the barcodes on tags in order to take inventory in parallel with normal work. This makes it possible to take inventory quickly and without any mistakes. There also is no need to close the store in order to take inventory, which lets the staff focus on sales work.
Management work at headquarters
Another advantage of handheld mobile computers and barcode management is that the data received from each store can be used to carefully examine the sales trends and results and to create future management strategies. Installing handheld mobile computers makes it possible to improve work such as inventory management, logistics management, and store plans with real-time data collection.