Other (Hospitals/Pharmacies/Gas and Water)
This section introduces handheld mobile computer application examples from hospitals, pharmacies, gas, and water as examples in other industries. Handheld mobile computers are used in a wide variety of industries.
Application Example at Hospitals
Handheld mobile computers are useful in preventing malpractice.
<Three-point reading check>

1: Wrist band
2: Doctor instruction details
3: Label for IV drip package
Malpractice is a serious problem at hospitals and other such medical institutions. Mistakes in dosage and treatment may pose a health hazard to patients and may, in the worst case, even lead to death. Handheld mobile computers have started to be installed in response to this problem. Integrating handheld mobile computers into the hospital's information system makes it possible to check the latest treatment order data while referring to the medical and patient information on the display. Even in very busy situations, this enables appropriate dosages and treatment just like those provided by medical examinations from a doctor on patrol. Operation is easy; just scan the barcode marked on the patient's wrist band (the medical examinee code), this not only prevents mistakes but also reduces the load on doctors and nurses.
Application Example at Pharmacies
Using handheld mobile computers to prevent prescription filling mistakes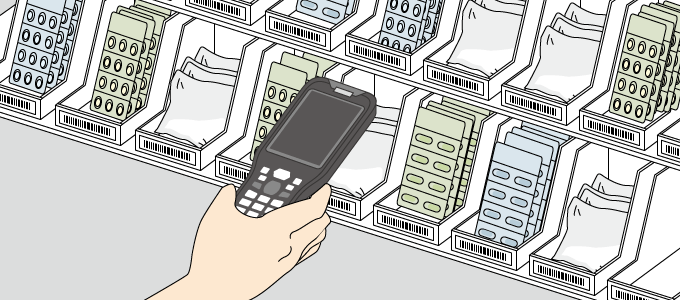 The different types of medicine handled at pharmacies often appear similar in shape and colour, and prescription filling mistakes caused by pharmacists taking the wrong medicine are problems. Recent years have seen more and more picking check systems using handheld mobile computers being installed. In such systems, prescription filling mistakes are prevented by affixing barcodes to the shelves where medicine is stored and checking that the medicine matches that in the prescription by reading these barcodes during picking. By using handheld mobile computers, the pharmacist can be warned with vibrations and alarms when taking the incorrect medicine. This makes it possible to prevent user-caused errors.
Application Example in Meter Reading Work such as Gas and Water
Sending meter reading data from the worksite to simplify meter reading work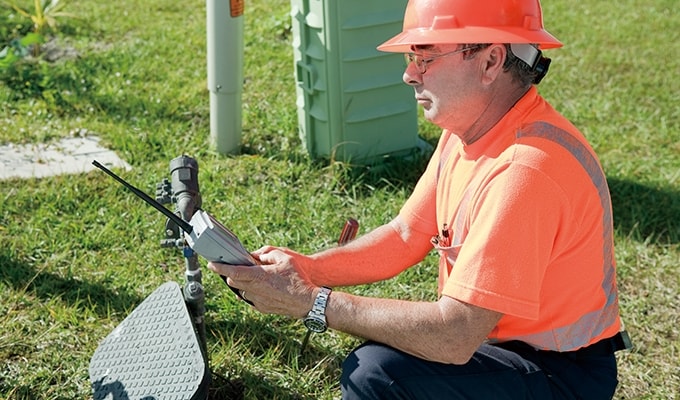 In meter reading work such as that performed for gas and water, the meter inspector goes from home to home, visually checking meters and recording their values. As hundreds of meters may be read in a single day, the problem is the handling of the collected data from those meters that have been read. Conventionally, the meter inspector had to return to the office and enter the data into the charge calculating computer. However, with handheld mobile computers the entered data can be sent on the spot to the system at headquarters, which dramatically improves the work efficiency.
In addition, the next day's data can be sent directly to the handheld mobile computer of a different representative, which greatly simplifies the transferring of data. Even in the event of sudden changes in the locations to visit for the day, the data communication function can be used to smoothly pass on data from the person in charge of a location to visit to the worker who will now visit said location. This is one example of how handheld mobile computers can be used to streamline meter reading work.