Optical Micrometer / Digital Micrometer
Similar to laser micrometers, optical micrometers are thrubeam sensors that measure any object that blocks the light passing from the transmitter to receiver. These sensors are designed without moving parts to provide accurate measurement without regular maintenance. KEYENCE's optical micrometers come in single-axis, mutli-axis, or 2D models (that create 2D backlit images). Micrometers are ideal for measuring diameter, gap, and width with high accuracy.
Products Lineup : High Precision Measurement (Thrubeam Distance Sensors)
Performs in line 2D dimensional measurements with high speed and precision.
Features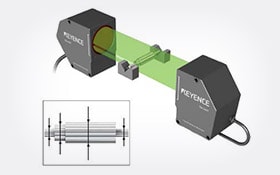 Outer diameter and step measurements of multiple points can be performed at the same time, which reduces the takt time.
The dimensions of up to 16 locations can be measured at the same time from the acquired silhouette.
Moving targets can also be measured with no blurring.
Even though this is an optical comparator, the high-speed sampling and position correction function enable stable inline measurement.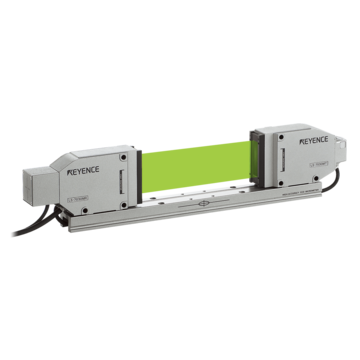 Breakthrough technology intelligent optical micrometer with 0.01-micron high resolution, 2400 samples/second high speed.
Features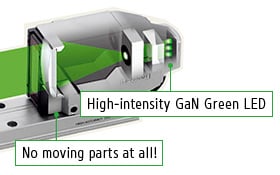 Designed without Moving Parts for Longer Lifespan and Less Maintenance
KEYENCE's proprietary optical design has no moving parts, eliminating the need for recalibration and long term maintenance.
Achieve High-Accuracy Measurement in-Line
Increased sampling speed makes high-accuracy measurement possible on moving targets, as well as still targets.
Products Lineup : Thrubeam Distance Sensors
The intelligent I-Series consists of a high-accuracy sensor lineup that offers high cost-performance with the most advanced functions for on-site operations.
Features
Easy to Use
The position monitor makes it easier to align the optical axis. Easily perform optical axis alignment by adjusting the sensor head so that all of the position monitor lights turn red.
Environmental Resistance
The enclosure satisfies the IP67 rating based on the IEC standards and remains watertight even after being held at a depth of one meter for 30 minutes. The enclosure is resistant to adverse environments and offers long-term durability.
The intelligent I-Series consists of a high-accuracy sensor lineup that realises low-cost high performance with only the most advanced functions for on-site operations.