Photoelectric Sensors
Laser sensors are used for detecting presence based on position or light intensity. Benefits include long range, a visible beam spot, and precise detection. These devices have a small footprint and have options to withstand the most demanding environments.
Colour Sensors
This Full-Spectrum sensor features unmatched detecting capabilities that allows it to complete the simplest to the most complex applications with ease.
Features
Innovative Technology
The unique technology in the LR-W series allows it to analyse the full light spectrum. This series can detect everything from surface finish differences to colour changes that are hard to see with the naked eye.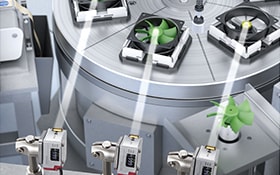 Flexibility
The LR-W features a 500 mm range, an adjustable beam spot, and high enclosure ratings. This allows the LR-W to solve more applications than any conventional photoelectric sensor.
Digital, 7 light colour combinations RGB fibreoptic sensor with 16-bit accuracy. Including a new UV sensor head, lustre detection head, 2-colour digital display and unique colour element detection. Detects targets conventional sensors cannot.
Digital, RGB fibre optic sensor with 2-colour digital display and 3 sensing modes. Detects targets conventional sensors cannot.