Laser Marking for UDI
UDI is an abbreviation of Unique Device Identification.
Identifying medical devices helps improve safety in the medical field, including in the distribution stage. This operational system was designed to make providing the optimal treatment even easier.
In December 2013, the International Medical Device Regulators Forum (IMDRF) the UDI Guidance document in order to ensure global consistency in adoption of the UDI system.
At present, only the US is subject to the UDI rules, but other countries are also gradually adopting the UDI system.
UDI requirements in the US
Put into effect in the US in September 2013, the UDI system gradually became mandatory a year later in September 2014. Adoption of the UDI system began on the following dates in other countries where production of US-bound medical devices exists.
Classification
Incidental conditions
Label display
database registration
Main unit display
Class III and
PHA (Public Health Act)
licenced products
Life-support/extension equipment
09/24/2014
09/24/2015
Equipment not for life support/extension
09/24/2016
Class II, Class I,
unclassified
Embedded devices
09/24/2015
Non-operating
Life-support/extension equipment
09/24/2015
Class II
Other than the above
09/24/2016
09/24/2018
Class I, unclassified
09/24/2020
09/24/2022
Refer to: GS1 Healthcare Japan conference "Operational guide to direct marking on to medical devices"
Typical products made with laser marking

[Class I]

Components related to the following equipment, small steel objects

[Class II]

Endoscopes, X-ray diagnostic equipment, ultrasonic image diagnosis equipment
Need for direct marking
Medical instruments such as steel instruments and endoscopes are generally compact and precise. Repeated use after washing and sterilising is common, so usual display labels such as paper or film are problematic due to limited space for affixing and long-term durability.
There are also unacceptable risks in terms of medical practices, such as the label coming off during surgery and becoming residual foreign particles within a patient's body.
These concerns have resulted in a growing need to establish a system that incorporates a direct marking method.

Advantages
Managing medical equipment through the use of direct marking carries the following advantages.
Quality maintenance through tracking of usage frequency
Optimisation of replacement/order timing
Improved efficiency and standardisation of instrument sets
Tracking of processes for each instrument (location management)
Reduction in excess inventory
Analysis of loss/theft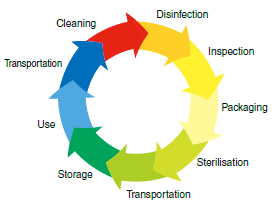 What kind of marking is necessary?
The following GS1 code is used for direct marking on medical instruments.
GS1-128
GS1 Data Matrix (if surface area for GS1-128 cannot be ensured)
The following information must be provided for use as a display item.
01: GTIN (product code) / 10: Lot no. / 17: Expiration date
21: Serial no. / 11: Manufacturing date
These two-digit numbers are called AI (application identifiers). If the numbers are meant to be expressed as visible characters, they must be surrounded by parentheses ( ).
Code display example

GTIN: 4569951110016
Serial number: 42345A-2
(01)04569951110016 (21)42345A-2

The display size of direct marking on medical instruments and other healthcare products as specified in the GS1 standard is as noted in the following table.
GS1 Data Matrix specifications
Marking method*
Module width (x)
Unit: mm (inch)
Quiet zone
Minimum
Objective
Maximum
Ink
0.254
(0.0100")
0.300
(0.0118")
0.615
(0.0242")
1×, all 4 sides
Method A:
Laser marking, etc.
0.100
(0.0039")
0.200
(0.0079")
0.300
(0.0118")
1×, all 4 sides
Method B:
Dot pin marking, etc.
0.200
(0.0079")
0.300
(0.0118")
0.495
(0.0195")
1×, all 4 sides
Excerpt from GS1 system symbol specification table 7 in the GS1 General Specifications
Comparison of laser marking methods
Laser marking methods are roughly divided into the following three categories.
Black-annealed (oxidation) marking
This method involves using the heat of the laser to colour the surface of a target black.
Engraving-based marking
This method involves increasing the laser irradiation density to remove the surface of a target.
Cold marking
This method involves colouring the surface of a target black without removing the oxidised film.
Advantages of cold marking
Cold marking applies only a minimal thermal effect to only the surface of a target, resulting in marking with excellent corrosion resistance. Chromium—the main component in forming a passive layer of stainless steel—changes to chromium carbide with excessive heating, and the corrosion resistance decreases (sensitisation). -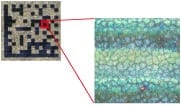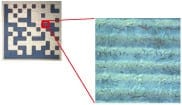 Salt water spray test results

Black-annealed marking

Cold Marking
Ability to mark extremely small codes
Controlling the laser beam size makes it possible to create minute markings as small as 0.5 mm × 0.5 mm even when marking a 26-digit (18 × 18 cells) GTIN or serial number in a GS1 data matrix.