Process Improvements from Mould Machining
This section introduces the principles and common problems of conventional die-based processing, followed by the advantages of using laser cutting instead.
Conventional method: Press die construction
Basic principles of cutting using press dies
This machining method involves cutting targets by applying pressure from above.
The example on the right shows a formed flexible PCB. The gate areas circled in red are cut using a press die.
There are three general categories of press die types.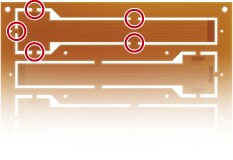 Single-shot stamping
This method includes one stamping for processing a single target.
This is the simplest processing method and includes the worker loading and removing the material.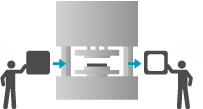 Progressive stamping
Material moves sequentially through several processing stations of a single die, each with equal pitches. A feeder moves the material from one station to the next one pitch at a time for every rotation of the press.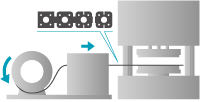 Transfer stamping
Various dies—each with a separate shape—are arranged in a single press. Automatic processing is performed continuously as the material moves through the press machine, which includes a synchronised feed mechanism.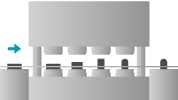 Common problems with conventional die processing
Problem 1 — Changing the size and shape of the processing target
With conventional die processing, a new die must be used any time the shape of the target being cut changes. This results in both increased die costs and additional effort for changeovers in the production line.

Problem 2 — Gradually decreased quality of components, and increased maintenance work
Because cutting is performed by applying pressure to the cutting edge, there is always a risk of adversely affecting the product itself, such as warpage in PCBs. In addition, wear eventually appears on the cutting edge, resulting in decreased cutting quality and increased maintenance work such as for replacing consumables.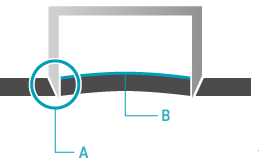 Decreased cutting quality due to blade wear
PCB warpage due to stress during cutting
Advantages of laser cutting
Basic principles of cutting using laser markers
This method involves cutting or drilling any part of a target using non-contact laser light irradiation.
Customizable shape configurations using software
Non-contact processing for greater stability
No consumable supplies for simpler maintenance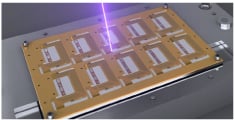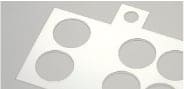 Utilising laser wavelengths for high-quality processing
Compared with standard wavelength lasers, UV lasers and green lasers generally have a remarkably higher material absorption rate, so the irradiated light is efficiently absorbed on the marking surface.
This means the power does not need to be increased to perform high-quality processing.
Absorption rates for various plastic materials

The values are for reference only and do not account for surface reflectivity.
The ability to suppress heat effects allows for reduced damage around the processing area.
Polyimide

Standard wavelength laser

Green laser
PCBs

Standard wavelength laser

UV laser