Fibre Laser Marking
On this page, we explain marking examples and characteristics of fibre laser markers, which are perfect for applications such as black-annealed marking and deep engraving into metal. The differences between fibre laser markers and YVO4 are also explained.
Applications
Fibre laser markers have a wavelength of 1090 nm, which is within the standard wavelength range, and are capable of marking a wide range of materials, including metals and resins. Their high power is particular suited for black-annealed marking and deep engraving on metal. On the other hand, fibre laser markers cannot be used to mark transparent objects like glass as the light passes through them.
Engraving (painting after marking)

(Vehicle body frame)

Black-annealed marking

(Bearing)

High-speed 2D code marking

(Engine block)

Etching

(Key cylinder)

Laser cutting

(Aluminium board)

Burr removal (frame IC)

(Left: Before processing,
Right: Burr removed)
Mechanism and Characteristics of Fibre Lasers
Fibre lasers are high-output lasers developed from long-distance communication relay amplification technology for optical fibres. The laser beam is efficiently amplified by traveling through the optical fibre, which makes it possible to produce a high-output laser.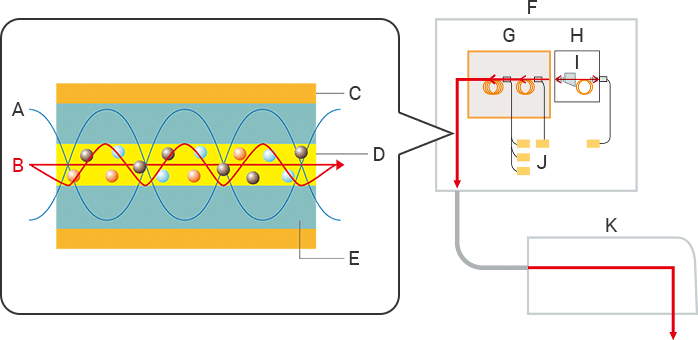 Feature: High-power laser engraving
Compared with conventional laser markers, high-output lasers can perform deeper engraving with the same marking time and faster engraving with the same depth. Fibre laser marking is the solution to shorter marking time and deeper engraving needs.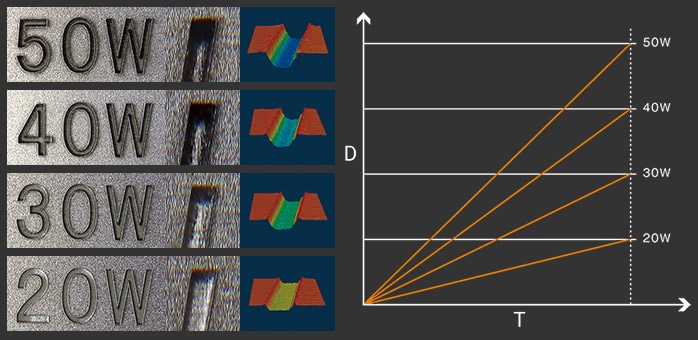 Differences With YVO4 Laser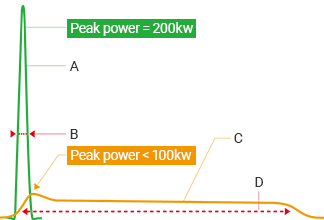 While fiber laser markers operate in the same standard wavelength range as YVO4 laser markers, there are significant differences in the way the beam is generated as well as their benefits.
While fibre lasers are produced by optical fibre that amplifies the laser beam, YVO4 lasers are solid-state lasers generated using crystals as the amplification medium for the laser beam. The difference between the two is in their peak power and pulse width.*
Fibre lasers are excellent for deep engraving, and high-power marking on metal at low peak and long pulse. On the other hand, YVO4 is suitable for high-contrast, low heat-damage marking at high peak and short pulse.
* Peak power: Maximum value of instantaneous output per pulse of laser beam
Pulse width: Time during which a pulse of laser beam is emitted
| | YVO4 laser | Fibre laser |
| --- | --- | --- |
| Nickel-plated marking | | |
| SUS engraving | Depth: 1 μm | Depth: 8 μm |
Column

Hybrid laser marker

A

High-quality marking (more focus on peak power)

B

Faster marking (more focus on output)

The MD-X Series has the advantages of conventional YVO4 laser markers and fibre laser markers (compared to conventional models).

KEYENCE offers a product lineup including hybrid laser markers that integrate YVO4 laser and fibre laser technologies.
The laser oscillator emables optimal marking on a variety of materials, from low-damage marking on resin to deep engraving on metals.
Hybrid laser markers are KEYENCE's exclusive technology born from its continuous development of solid-state and fibre lasers.
Product Introduction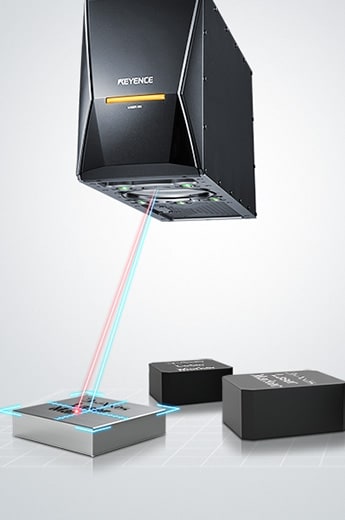 No deviation in focus or position3-Axis Hybrid Laser MarkerMD-X Series
Full-area autofocus

Equipped with a ranging sensor and built-in camera inside the laser head, deviation in focus or position can be corrected in the entire marking area.
Predictive maintenance and problem analysis tool

Predictive maintenance and problem analysis can be easily performed by means of the constant monitoring of the internal state of the laser marker.
High peak power and high output power

High peak power and short-pulse laser markers provide the dual advantages of sharp marking quality and high-speed marking.