UV Laser Marking
On this page, we explain marking examples and characteristics of UV laser markers, which are perfect for applications that require clear colour marking or marking with minimal damage to products.
Applications
The wavelength of UV laser light is around one-third (355 nm) of that of standard wavelength lasers (1064 nm). The name "UV laser marker" comes from its wavelength being in the ultraviolet portion of the light spectrum.
Marking using these lasers is called "Cold Marking," which refers to how they can perform marking and processing with minimal heat damage due to their incredibly high absorption rate on a variety of materials. UV laser marking is ideal for applications that require high contrast or minimal product damage.

Multicolour automotive relays

Earbuds

Chemical bottles

Copper lead frames

Steel tools (scissors, etc.)

Food packaging film
Mechanism and Characteristics of UV Lasers
The wavelength of a UV laser is one-third that of standard wavelength lasers, and thus UV lasers are also referred to as third-harmonic generation (THG) lasers. By passing a standard wavelength laser with a wavelength of 1064 nm through a non-linear crystal, the wavelength is reduced to 532 nm. This is further passed through another crystal, effectively reducing its wavelength to 355 nm.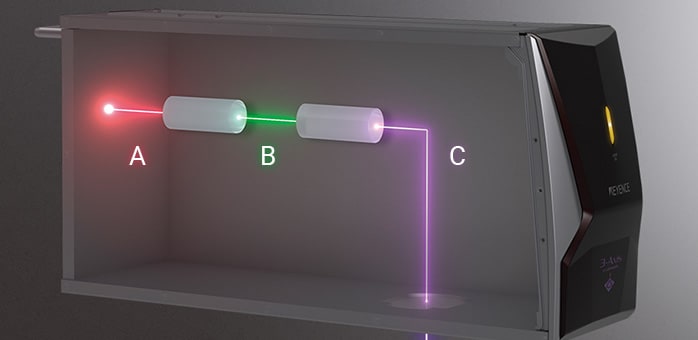 Feature: High-contrast marking
Compared with standard wavelength lasers (IR/1064 nm) and green lasers (SHG/532 nm), UV lasers generally have a remarkably higher material absorption rate, which enables efficient absorption of emitted light by the marking surface. This means the power does not need to be increased to create highly visible marks.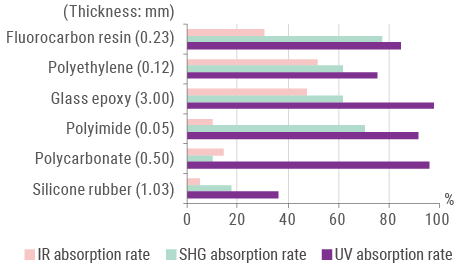 Marking comparison
In-vehicle plastic part
[Material: Natural Polyamide]

Conventional model

UV laser

Plastic Tube
[Material: Silicon]

Conventional model

UV laser

Power switch cover
[Material: Urea formaldehyde white]

Conventional model

UV laser

Gas meter casing
(with red marking surface)

Conventional model

UV laser
Feature: Damage-free marking
Marking with UV lasers takes advantage of high absorption rates even with gold, silver, copper, and other materials with high reflectance, ensuring minimal heat damage. This minimises soot and burrs while also preventing damage to the surface, so corrosion-resistant marking and processing is possible.
Marking on IC package


The size of electronic parts has steadily decreased over the years, and the sealing resin has also become steadily thinner. With standard wavelength lasers, damage to internal components caused by energy being transmitted through the sealing resin has become a real concern. The high material absorption rate offered by UV lasers reduces the chance of that energy being transmitted to internal components.
Marking comparison
Marking with reduced thermal damage
(silver-plated surface)

Conventional model

UV laser

Cutting with reduced thermal damage
(PCB)

Conventional model

UV laser
Marking with reduced rear surface damage
(transfusion bag film)

Convention model
(Left: Front, Right: Back)

UV laser
(Left: Front, Right: Back)

Marking with reduced engraving
(IC package)

Conventional model

UV laser