Hole Drilling by Laser
This section introduces laser processing-based drilling through examples.
Basic principles of drilling using laser markers
Laser-based drilling uses laser light to irradiate a single point of a target in order to drill a hole through melting and evaporation.
Changing the wavelength and output of the laser according to the target makes it possible to perform high-accuracy processing.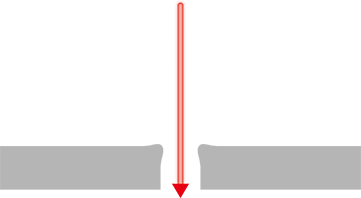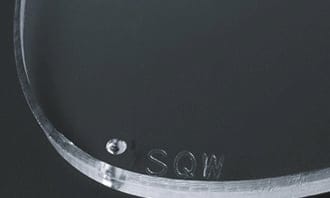 Scanning the laser light in a circle results in a hole being cut into the target.
Copper

Polyimide

Aluminium
Hole drilling example — Drilling holes in rice bags
Application Explanation
This section introduces how to drill air holes into a rice bag without the use of a cutter.
Small holes are drilled into rice bags to allow air to escape, thus preventing the bag from rupturing during stacking.
With conventional methods, these holes were drilled with a needle, but there was always a risk of the needle breaking off into the bag. In addition, the holes could also increase in size due to the wear of the needle tip, opening the door to the problem of contamination from foreign particles.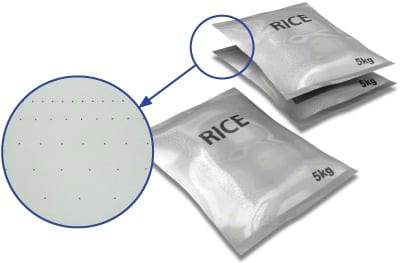 Advantages of laser processing
Reducing the risk of contamination
Using lasers provides non-contact processing, preventing problems such as the needle tip breaking, and avoiding the risk of foreign particle contamination all together.
Also, because there is no needle tip as with conventional methods, wear is not a problem and stable drilling is possible without any variations in quality. The ability to perform always-uniform drilling also prevents such problems as the holes becoming larger, resulting in contamination due to foreign particles.
The lack of consumable components helps reduce costs and improve productivity.
With non-contact laser processing, running costs can be drastically reduced thanks to the elimination of maintenance and replacement of worn parts required with conventional methods. In addition, because parts do not wear out and adversely affect processing quality, stable processing can be ensured, and productivity improvements are possible.
Easy switching between types
Whenever the product type changes, the hole pattern or hole diameter may also change. Using a laser marker, changeovers is as easy as switching between types using software configured in advance with settings for each target type. Factors such as the size and power of laser light can be controlled as desired, enabling processing under optimal conditions for the product.
Product A

Product B
Recommended models for hole drilling, organised by material